Baton Rouge Volunteer Opportunities
Team Building Events

Yardwork/Landscaping:
Plant annuals
Trim bushes
Weed existing beds
Refresh paint on fence or picnic tables
Power wash
Landscape/mulch

In-Person Volunteer Opportunities
Spend time with our Day Center

Our Day Center participants need volunteers to lead exercise, do magic, do arts and crafts, sing/karaoke, play games such as corn hole or Jenga, play board games/checkers/UNO. Please note: there is no weekend availability with this opportunity.
Some other ways to interact and spend time with our participants include:
Host a recreational activity or event for our adults with disabilities - some options include hosting group bingo, seasonal craft projects i.e. decorating pumpkins, ornament making/decorating, small-scale gardening activities like potting small plants, painting pots, or art projects such as painting stained glass items.
Be a guest speaker - educate our participants on exercise, money management skills, personal health, etc.

Volunteer for the elderly:
Host a monthly birthday party or a bingo game for our residents – volunteers are responsible for bringing prizes and refreshments along with paper products - staff can guide on appropriate prizes and food options.
Celebrate Mother's/Father's/Grandparent's Day with our residents – make cards/crafts

Donation/Collection Opportunities

Collect Paper Goods for Low-Income Seniors

The elderly residents living at our Oak Park Plaza Senior Community are on fixed incomes and have difficulty affording the basics towards the end of the month. Volunteers can purchase paper towels, facial tissue, toilet paper, disinfecting wipes, spray cleaner, trash bags, light bulbs, bar soap, and full-size toiletries. Drop-offs are accepted Monday through Thursday. Contact development@voascla.org


Mobile Outreach Bag Collection
Volunteers of America operates a mobile outreach unit that is on the go each day offering assistance to those living on the streets. Through our outreach staff, we can do an intake with the consumer, schedule telehealth appointments, and start the process of helping them obtain affordable housing. The outreach bags are great for a corporate project where a collection can take place and staff could assemble the bags at their leisure. A large Gallon zip lock is best so that the items are protected from the rain. Items should be travel size and non-perishable food should be individually wrapped. Our team will hand these out as they travel to largely populated areas where the street homeless have set up encampments. Contact development@voascla.org to get involved.

Mobile Outreach Supplies Needed:
Everyday Supplies

Soap
Toothbrush and Toothpaste
Hand Sanitizer
Socks
Water
Power Aid or Sports Drinks
Non-perishable food

Crackers
Chips
Vienna Sausages
Beef Jerky

Backpacks (optional)
Fall and Winter Supplies
Thermal Wear
Blankets
Gloves
Hats
Spring and Summer Supplies
Ponchos
Sunscreen
Insect Repellents


Seasonal Volunteer Opportunities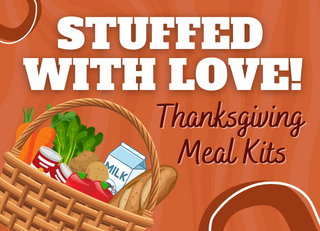 Stuffed with Love Thanksgiving Meal Kits
Give Thanks and Give Back! We are collecting Thanksgiving Meal Kits to help the individuals and families in our programs who need it most this holiday season!
Here's how you can get involved:
Decorate a box or bag to store your meal kit. Get creative and make this a family activity!
Create a Thanksgiving card for your adopted family to enjoy!
Stuff your box or bag with meal items such as:

Nonperishable large canned goods (green beans, yams, corn, etc.)
Stuffing mix
Box of mashed potato mix
Cake or brownie mix
Cornbread mix
All meal kits must be received by November 14th at our Corporate Office in Baton Rouge. Our staff will distribute to individuals and families.
For more information, contact Melanie Boone, Marketing & Development Coordinator at (225) 408-3789 or by email at development@voascla.org.

Hope Under the Tree Christmas Giving Program

Hope Under the Tree is a giving program for donors to adopt individuals and families in our programs. The names on the list are homeless families in transition, families in crisis, foster children, Seniors, Veterans, and adults with disabilities that we have served throughout the year. When someone is "adopted" we remove them from the list so the only gifts they receive will be yours.
The items on their lists are just suggestions and you don't have to purchase every item but we do ask that the items be new. We will arrange the delivery of gifts to our Corporate office. After we receive the gifts, the case managers and social workers will distribute the gifts to each individual or family in time for Christmas.
No matter your gift, big or small, this Christmas, you will be making a difference in the lives of our clients. Thank you again for taking the time to learn more about our program. If you or your company would like to become a Hope Under the Tree donor, please contact Melanie Boone, Marketing & Development Coordinator, at (225) 408-3789 or by email at development@voascla.org.